Science is a part of our everyday lives, in the form of the plants and trees around us, the sun that shines, the ground beneath our feet, the chemicals we use to clean with, the electricity we use, etc. In this lesson, we're going to learn about some famous Norwegian scientists and the discoveries they have made, as well as learn some science related vocabulary in Norwegian.
Grammar Review
Sentence structure
While most Norwegian sentences use the subject-verb-object (SVO) word order, like English does, Norwegian does have the V2 (verb second) rule. If an adverbial phrase or subordinate clause is at the front of the sentence, the subject and the verb have to switch places (this is called "inversion") so that the verb stays in the second position.
Eksempel
English

SVO

Markus jobbet i laboratoriet i går.

Markus worked in the laboratory yesterday.

Sofia studerte biologi da hun gikk på universitetet.

Sofia studied biology when she was at university.

V2

I går jobbet Markus i laboratoriet.

Yesterday, Markus worked in the laboratory.

Da Sofia gikk på universitetet, studerte hun biologi.

When Sofia was at university, she studied biology.
Verb Conjugation
Conjugating present tense of verbs in Norwegian is fairly simple. Most present tense verbs just add an -r to the end of the infinitive.
| Infinitive | Present | English | Infinitive | Present | English |
| --- | --- | --- | --- | --- | --- |
| Å studere | Studerer | Studying / Studies | Å måle | Måler | Measuring / Measures |
| Å lese | Leser | Reading / Reads | Å jobbe | Jobber | Working / Works |
There are some exceptions / irregulars:
| | | | | | |
| --- | --- | --- | --- | --- | --- |
| Infinitive | Present | English | Infinitive | Present | English |
| Å kunne | Kan | To be able to | Å måtte | Må | To have to |
| Å skulle | Skal | To have to; to be going to | Å ville | Vil | To want |
| Å være | Er | To be | Å vite | Vet | To know |
Past tense conjugation is a bit more difficult, however there are some guidelines (but keep in mind there are exceptions).
If the verb ends with a double consonant, consonant cluster, or voiced plosive (b / d), past tense will end in -et.

If the verb ends in a single consonant (except v / b / d), past tense ends in -te.

If the verb ends with v or diphthong, the past tense ends in -de.

If the verb has only one syllable with a long vowel, past tense ends in -dde.
Rule Number

Infinitive

Past Tense

English

1

Å snakke

Snakket

Talked

Å ønske

Ønsket

Wished

2

Å lære

Lærte

Learned

Å kjøpe

Kjøpte

Bought

3

Å leve

Levde

Lived

Å pleie

Pleide

Used

4

Å bo

Bodde

Lived
For future tense, typically the present tense verb is used with a time adverbial to clarify it is a future action. (Future can also be expressed with modal verbs, but this is just a brief overview).
| | |
| --- | --- |
| Eksempel | English |
| Eksamenen er på onsdag. | The exam is on Wednesday. |
| Konferansen er neste måned. | The conference is next month. |
Adjective Basics
Adjectives typically have to agree with the gender and the number of the noun.
Singular Indefinite
Plural Indefinite

Norwegian

English

Norwegian

English

Masculine

En fjern planet

A distant planet

Fjerne planeter

Distant planets

En ren kopp

A clean cup

Rene kopper

Clean cups

Feminine

Ei fjern stjerne

A distant star

Fjerne stjerner

Distant stars

Ei ren væske

A clean liquid

Rene væsker

Clean liquids

Neuter

Et fjernt lys

A distant light

Fjerne lys

Distant lights

Et rent speil

A clean mirror

Rene speil

Clean mirrors
When the noun is in the definite form, the adjective takes an -e ending (like in the plural indefinite above).
Singular Definite
Plural Definite

Norwegian

English

Norwegian

English

Masculine

Den fjerne planeten

The distant planet

De fjerne planetene

The distant planets

Denne rene koppen

This clean cup

Disse rene koppene

These clean scups

Feminine

Den fjerne stjerna

The distant star

De fjerne stjernene

The distant stars

Denne rene væska

This clean liquid

Disse rene væskene

These clean liquids

Neuter

Det fjerne lyset

The distant star

De fjerne lysene / lysa

The distant stars

Dette rene speilet

This clean mirror

Disse rene speilene / speila

These clean mirrors
Science in Norway
There have been a number of Norwegians who have made major discoveries and advancements in varying scientific fields. For this lesson, let's look at a few of them.
One of the most famous Norwegian scientists is Kristian Birkeland, born in 1867 in what is now called Oslo. He went on several trips to the northern parts of Norway, setting up a number of observatories to obtain magnetic field information. During his research, he noticed that an electron beam, focused on a magnetized ball, was guided toward the "poles" and produced rings of light. He realized that this could be the reason for the aurora borealis (northern lights). His theory, that polar electric currents were connected to other currents that were along the geometric field lines (now known as Birkeland currents) that led into and away from the polar region, was heavily debated for decades. Many dismissed his ideas long after his death. It wasn't until 1967 that his theory was proven true after a probe was sent into space. Birkeland was featured on the 200 kr bank note, along with his diagram of field-aligned currents (the Birkeland currents).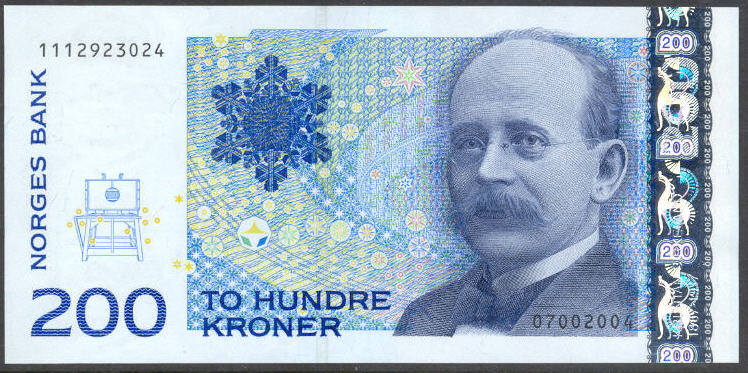 Odd Hassel was born in 1897 in what is now known as Oslo. He was a physical chemist and focused much of his work on inorganic chemistry and later on molecular structures. From 1925 until 1964, he worked at the University of Oslo. In 1943, he and other university staff members were arrested by the Nasjonal Samling (the Norwegian far-right party active during the time of occupation by Nazi forces). He spent time in a number of detention camps until 1944 when he was released. In 1969, he received the Nobel Prize in Chemistry for his discovery that molecules existed on more than one plane.
Physical chemist and theoretical physicist Lars Onsager was born in 1903 in Oslo. As part of his research, he determined that the Debye-Hückel theory of electrolyte solutions had an error. He published his findings in 1926 and traveled to Zürich to confront Peter Debye, telling the scientist that he was wrong. A few years later, during his time conducting research at Brown University, Onsager produced the Onsager reciprocal relations which is a set of equations used in thermodynamics. This work earned him the Nobel Prize in Chemistry in 1968.
Nobel Laureates May-Britt Moser (born 1963 in Fosnavåg) and Edvard Moser (born 1962 in Ålesund) are both neuroscientists who worked together to better understand how the brain works with regards to spatial location. May-Britt and Edvard met in university and married in 1985 (divorced in 2016). Over the course of their careers, they founded the Centre for Neural Computation as well as the Kavli Institute for Systems Neuroscience. In 2014, the Mosers received the Nobel Prize in Physiology or Medicine for discovering a type of cell (called a grid cell), located in the hippocampus, which is important in determining one's location.
Science Vocab
Nouns & Adjectives
English
Norwegian
English
Norwegian

Acid

Syre

Air

Luft (ei)

Alkaline

Alkalisk

Asteroid

Asteroide (en)

Astronomy

Astronomi

Atmosphere

Atmosfære (en)

Atom

Atom (et)

Axis

Akse (en)

Beaker

Begerglass (et)

Bias (i.e. statistical bias)

Systematisk feil / Statistisk avvik

Biochemistry

Biokjemi

Biology

Biologi

Botany

Botanikk

Cell

Celle (ei)

Chemical

Kjemisk stoff (et)

Chemistry

Kjemi

Climate

Klima

Climate change

Klimaendringer

Comet

Komet (en)

Condensation

Kondensasjon

Constellation

Konstellasjon (en)

Data

Data

Dirt

Skitt / jord

Earth

Jord

Ecology

Økologi

Electrical

Elektrisk

Electricity

Elektrisitet

Electron

Elektron (et)

Element

Element (et)

Chemical

Nuclear

Potential

Thermal

Solar

Kjemisk energi

Kjernekraft

Potensiell energi

Termisk energi

Solenergi

Entomology

Entomologi

Erosion

Erosjon

Evolution

Evolusjon

Experiment

Eksperiment (et)

Extinct

Utryddet

Fact

Faktum

Flask

Kolbe (en)

Food chain

Næringskjede

Fossil

Fossil (et)

Frequency

Frekvens

Friction

Friksjon

Funnel

Trakt (ei)

Galaxy

Galakse (en)

Genetics

Genetikk

Geology

Geologi

Graduated cylinder

Målesylinder (en)

Gravitational pull

Gravitasjonskraft

Gravity

Tyngdekraft / Gravitasjon

Habitat

Habitat (et)

Hypothesis

Hypotese (en)

Laboratory

Laboratorium (et)

Liquid

Væske (ei)

Light year

Lysår (et)

Magnetic field

Magnetfelt (et)

Magnifying glass

Forstørrelsesglass (et)

Mass

Masse

Matter

Materie

Measurement

Måling (ei)

Meteor

Meteor (en)

Meteorology

Meteorologi

Microbiology

Mikrobiologi

Microscope

Mikroskop (et)

Mineral

Mineral (et)

Mitosis

Mitose

Molecule

Molekyl (et)

Motion

Bevegelse

Neutron

Nøytron (et)

Nucleus

Kjerne (en)

Observatory

Observatorium (et)

Orbit

Bane (en)

Organism

Organisme (en)

Ozone layer

Ozonlag

Paleontology

Palæontologi

Particle

Partikkel (en)

Periodic table / chart

Periodesystemet / Periodetabellen

Petri dish

Petriskål (ei)

Phase

Fase (en)

Photosynthesis

Fotosyntese

Physics

Fysikk

Planet

Planet (en)

Plant

Plante (ei)

Pipette

Pipette (en)

Pollution

Forurensning

Proton

Proton (et)

Quantum physics

Kvantefysikk

Radiation

Stråling

Renewable resource

Fornybar ressurs (en)

Research

Forskning

Researcher

Forsker (en)

Rock

Stein (en)

Satellite

Satellitt (en)

Scale

Skala (en)

Science

Vitenskap

Scientific method

Vitenskapelig metode

Scientist

Vitenskapsmann (en)

Solar system

Solsystem (et)

Solid

Faststoff (et)

Sound

Lyd (en)

Sound wave

Lydbølge (ei)

Space (i.e. outer space)

(Verdens)rom (et) / Det ytre rom

Species

Art (en)

Specimen

Eksemplar (et)

Speed

Fart

Star

Stjerne (ei)

Symbiosis

Symbiose

Telescope

Teleskop (et)

Temperature

Temperatur

Test tube

Reagensrør (et) / Reagensglass (et)

Theory

Teori (en)

Thermometer

Termometer (et)

Tissue

Vev (et)

Trait

Egenskap (en)

Universe

Univers (et)

Variable

Variabel (en)

Velocity

Hastighet

Volume

Volum

Weather

Vær

Weight

Vekt (ei)
Verbs
| | | | |
| --- | --- | --- | --- |
| English | Norwegian | English | Norwegian |
| To accelerate | Å akselerere | To add | Å legge til |
| To alter | Å endre | To boil | Å koke |
| To burn | Å brenne | To combine | Å kombinere |
| To condense | Å kondensere | To consume | Å forbruke |
| To dilute | Å fortynne | To dissect | Å dissekere |
| To divide | Å dele | To erode | Å erodere |
| To evaporate | Å fordampe | To evolve | Å utvikle |
| To experiment | Å eksperimentere | To freeze | Å fryse |
| To grow | Å vokse | To hibernate | Å gå i dvale |
| To grow (i.e. plants) | Å gro | | |
| To measure | Å måle | To melt | Å smelte |
| To orbit | Å gå i bane | To plant | Å plante |
| To recycle | Å resirkulere | To reproduce | Å reprodusere |
| To research | Å forske | To separate | Å skille |
| To weigh | Å veie | | |