Grammar Review
Sentence structure
While most Norwegian sentences use the subject-verb-object (SVO) word order, like English does, Norwegian does have the V2 (verb second) rule. If an adverbial phrase or subordinate clause is at the front of the sentence, the subject and the verb have to switch places (this is called "inversion") so that the verb stays in the second position. <!--more-→
Eksempel
English

SVO

Erik spilte det nye spillet i går.

Erik played the new game yesterday.

Emilie hadde på seg sin nye frakken siden det var kaldt ute.

Emilie wore her new coat since it was cold outside.

V2

I går spilte Erik det nye spillet.

Yesterday, Erik played the new game.

Siden det var kaldt ute, hadde Emilie på seg sin nye frakken.

Since it was cold outside, Emilie wore her new coat.
If a sentence has more than one verb, the second verb will be in a nonfinite form (e.g. å finne). If the sentence has inversion, then the subject will come between the finite (i.e. conjugated) verb and the nonfinite verb.
Eksempel
English

SVO

Sofie begynte å spille fotball i fjor.

Sofie began playing football last year.

Lukas prøvde å synge en ny sang på generalprøven i går.

Lukas tried to sing a new song at rehearsal yesterday.l

V2

I fjor begynte Sofie å spille fotball.

Last year, Sofie began playing football.

På generalprøven i går prøvde Lukas å synge en ny sang.

At rehearsal yesterday, Lukas tried to sing a new song.
Verb Conjugation
Conjugating present tense of verbs in Norwegian is fairly simple. Most present tense verbs just add an -r to the end of the infinitive.
| Infinitive | Present | English | Infinitive | Present | English |
| --- | --- | --- | --- | --- | --- |
| Å tegne | Tegner | Draws / Drawing | Å spille | Spiller | Plays / Playing |
| Å synge | Synger | Sings / Singing | Å løpe | Løper | Runs / Running |
There are some exceptions / irregulars:
| | | | | | |
| --- | --- | --- | --- | --- | --- |
| Infinitive | Present | English | Infinitive | Present | English |
| Å kunne | Kan | To be able to | Å måtte | Må | To have to |
| Å skulle | Skal | To have to; to be going to | Å ville | Vil | To want |
| Å være | Er | To be | Å vite | Vet | To know |
Past tense conjugation is a bit more difficult, however there are some guidelines (but keep in mind there are exceptions).
If the verb ends with a double consonant, consonant cluster, or voiced plosive (b / d), past tense will end in -et.

If the verb ends in a single consonant (except v / b / d), past tense ends in -te.

If the verb ends with v or diphthong, the past tense ends in -de.

If the verb has only one syllable with a long vowel, past tense ends in -dde.
Rule Number

Infinitive

Past Tense

English

1

Å snakke

Snakket

Talked

Å ønske

Ønsket

Wished

2

Å lære

Lærte

Learned

Å kjøpe

Kjøpte

Bought

3

Å leve

Levde

Lived

Å pleie

Pleide

Used

4

Å bo

Bodde

Lived
For future tense, typically the present tense verb is used with a time adverbial to clarify it is a (near) future action. Modal verbs can also be used to express future actions.
| Eksempel | English |
| --- | --- |
| Isabella kjører til butikken i morgen. | Isabella will drive to the store tomorrow. |
| Butikken åpner neste helg. | The store is opening next weekend. |
Adjective Basics
Adjectives typically have to agree with the gender and the number of the noun.
Singular Indefinite
Plural Indefinite

Norwegian

English

Norwegian

English

Masculine

En varm genser

A warm sweater

Varme gensere

Warm sweaters

En rød hanske

A red glove

Røde hansker

Red gloves

Feminine

Ei varm kåpe

A warm robe

Varme kåper

Warm robes

Ei rød hytte

A red cabin

Røde hytter

Red cabins

Neuter

Et varmt teppe

A warm blanket

Varme tepper

Warm blankets

Et rødt skjerf

A red scarf

Røde skjerf

Red scarves
When the noun is in the definite form, the adjective takes an -e ending (like in the plural indefinite above).
Singular Definite
Plural Definite

Norwegian

English

Norwegian

English

Masculine

Den varme genseren

The warm sweater

De varme genserne

The warm sweaters

Denne røde hansken

This red glove

Disse røde hanskene

These red gloves

Feminine

Den varme kåpa

The warm robe

De varme kåpene

The warm robes

Denne røde hytta

This red cabin

Disse nye hyttene

These red cabins

Neuter

Det varme teppet

The warm blanket

De varme teppa

The warm blankets

Dette røde skjerfet

This red scarf

Disse røde skjerfa

These red scarves
Winter in Norway
Weather
Winter officially starts in December and ends in February, however, it is not uncommon to see snow in November in Norway (sometimes even as early as October). Furthermore, snow can linger into April, depending on the area in Norway. Typically, the temperatures during the winter months are below the freezing point (0 C / 32 F) with the temperature in some areas dropping as low as -40 C / F. The coldest months tend to be January and February. If you're not particularly fond of cold weather, then Oslo has some of the warmer temperatures during the winter months.
Winter days are very short and the nights are long. In areas north of the Arctic Circle, the sun doesn't even rise from November til January. Winter is a good time to see the Northern Lights (nordlys) in areas of Northern Norway, especially around the coasts of Tromsø.
Things to Do
There are a number of things to do and see in Norway during the winter. Of course, one of the most popular things to do in the winter is skiing, whether it be cross-country or alpine. If you don't want to ski, you can strap on some snowshoes and go on a hike. If you're going to go skiing or hiking, however, make sure that you check the weather forecast and also follow the Norwegian mountain code (fjellvettreglene).
If you enjoy fishing during the summer, why not fish in the winter also? Fishing spots aren't as busy or crowded, allowing for better chances of catching fish. Due to the Gulf Stream, a lot of the fjords remain ice-free and the waters that are frozen, you can drill a hole in the ice, put your line in and wait for the fish to bite. After winter fishing, many will relax in a sauna or in front of an open fire.
Dog sledding is another activity one can experience during the winter in Norway. As part of many dog sledding tours, one can pet and feed the huskies. You can either choose to be the musher yourself or you can just enjoy being a passenger along for the ride. Just be aware that it can be a work out, if you choose to drive your own team of dogs.
If you're looking at unique places to visit or stay the night, you can see the Sorrisniva Igloo Hotel and the Kirkenes Snow Hotel, both located in Northern Norway. Both hotels are built over the course of a number of weeks in November / December, and feature ice and snow sculptures, beautiful lighting, and different themes each year.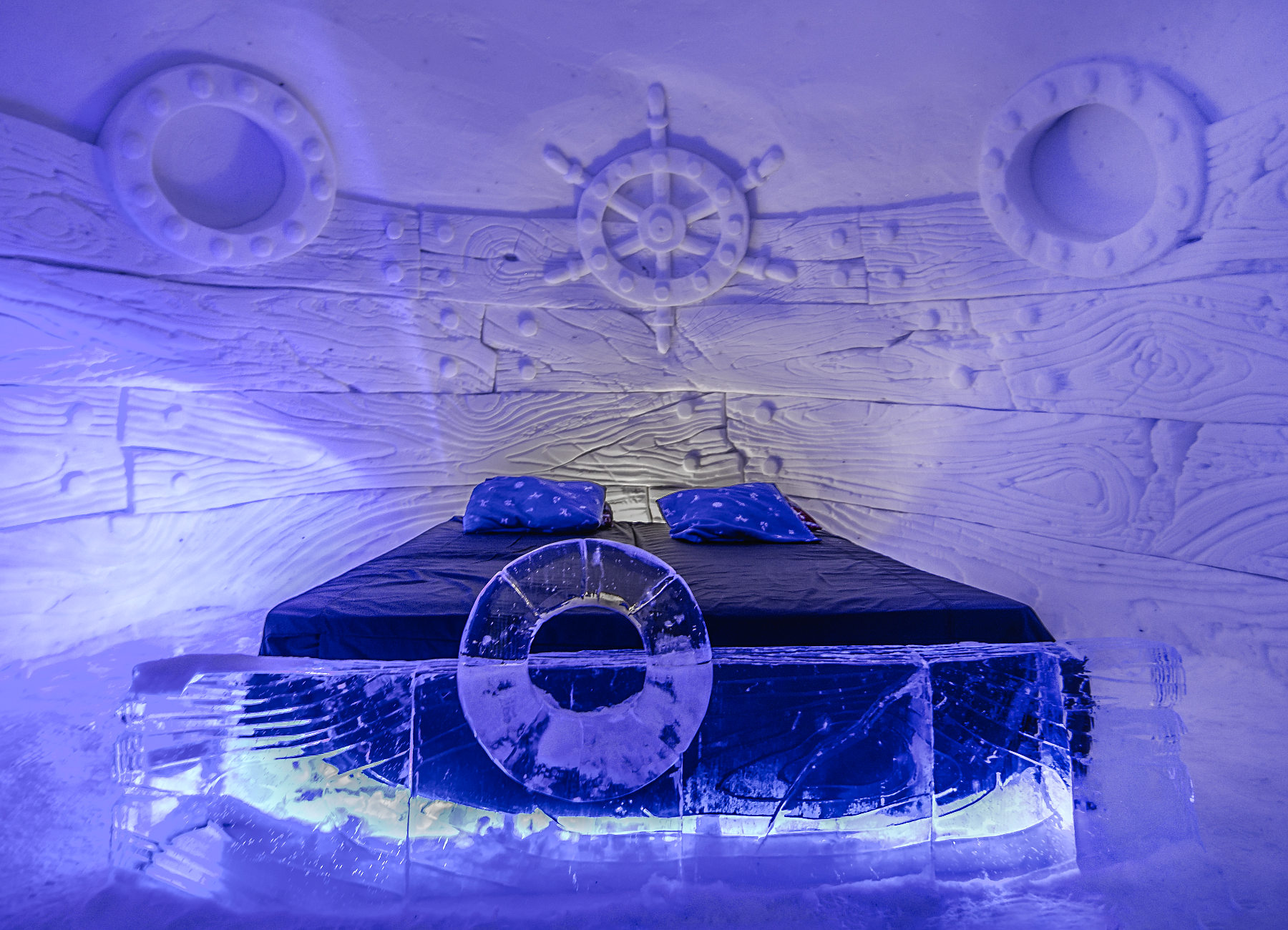 Kirkenes Snow Hotel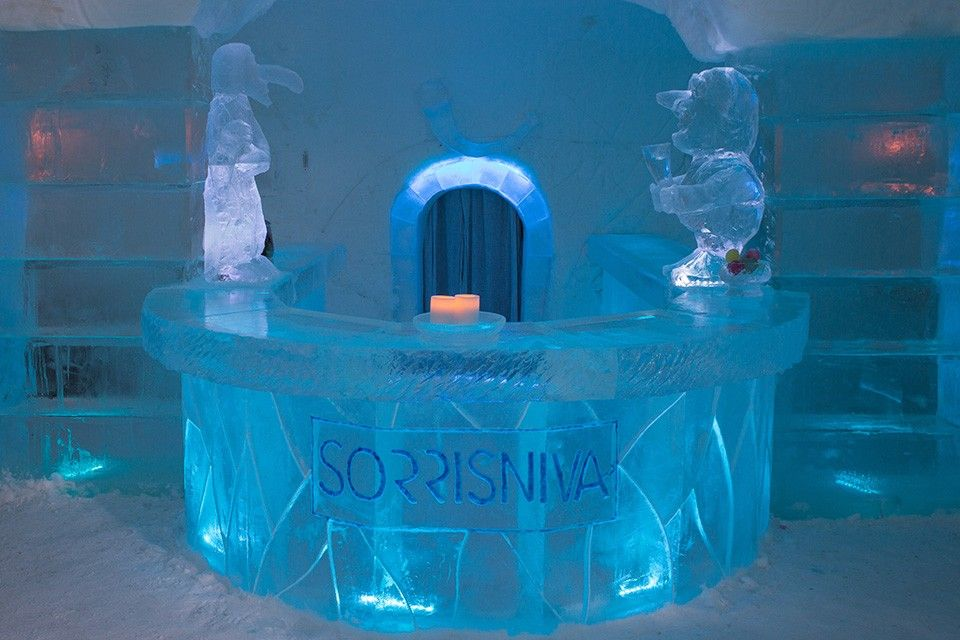 Sorrisniva Igloo Hotel
One of the most important aspects of Norwegian winters is the concept of "kos." The word loosely translates into English as "coziness" but can be explained as that warm feeling you get when you're with family and / or friends, having a relaxing and enjoyable time. The word might bring to mind the image of sitting in front of a fireplace, with a warm cup of hot chocolate (or tea or coffee), wearing a warm marius sweater, and enjoying the company of one's friends. Of course "kos" can also mean sitting on the couch, snuggled closely with a significant other, watching old movies, or having a game of cards with some friends. It's a feeling of closeness, happiness, kindness, and belonging.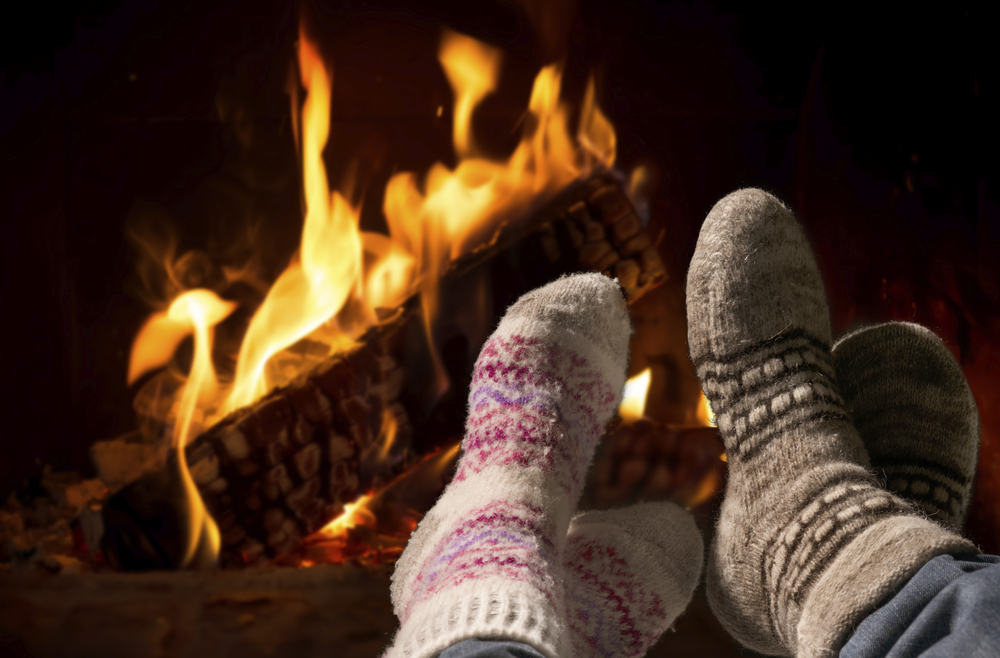 No matter what winter activities you are enjoying, be aware that when traveling, there will be a lot of closed roads due to the weather. Furthermore, if you are driving, make sure that your car has studded winter tires or snow chains, etc. It's also a good idea to keep a blanket, snacks, and a shovel, just in case you get stuck someplace.
Vocabulary
Nouns & Adjectives
Biathlete

Skiskytter (en)

Biathlon

Skiskyting (en)

Black ice

Svart is

Blanket

Teppe (et)

Blizzard

Snøstorm (en)

Boot

Støvel (en)

Candle

Stearinlys (et)

Comforter

Dyne (ei)

Cross-country skiing competition

Langrenn (et)

Dangerous

Farlig

December

Desember

Dogsled

Hundeslede

Ear muffs

Ørevarmere (en)

February

Februar

Fireplace

Peis (en)

"Firm" / heavy / wet snow

Kramsnø

Flannel

Flanell

Flurry

Snøbyge (ei)

Frysepunkt

Frost

Frost (en)

Frostbite

Frostskader

Gloves

Hansker

Hat

Hatt (en)

Heater

Varmeapparat (et)

Hot chocolate

Varm sjokolade (en)

Ice

Is (en)

Iceberg

Isfjell (et)

Ice hockey

Ishockey

Ice scraper

Isskrape (en)

Ice skate (noun)

Skøyte (ei)

Ice skating rink

Skøytebane (en)

Icicle

Istapp (en)

January

Januar

Kicksled

Spark(støtting) (en)

Mitten

Vott (en)

Mountain

Fjell (et)

Mulled wine

Gløgg (en)

Musher

Hundekjører

Northern Lights

Nordlys

Norwegian mountain code

Fjellvettreglene

Pine tree

Furutre (et)

Precipitation

Nedbør

Scarf

Skjerf (et)

Ski

Ski (en)

Ski lift

Skiheis (en)

Ski slope

Skibakke (en)

Sled / Sleigh

Slede (en)

Snow

Snø (en)

Snowball

Snøball (en)

Snowball fight

Snøballkrig (en)

Snowblower

Snøfreser (en)

Snowflake

Snøfnugg (et)

Snowman

Snømann (en)

Snowmobile

Snøscooter (en)

Snow plow (en)

Snøplog (en)

Snowshoes

Truger

Snow shovel

Snøskuffe (ei)

Snowsuit

Kjeledress (en)

Spruce tree

Grantre (et)

Sweater

Genser (en)

Thermal underwear
(synthetic; wool)

Superundertøy (et) / ullundertøy (et)

Toboggan / Sled

Kjelke (en)

Warmth

Varme (en)

Warning

Advarsel

Winter tire

Vinterdekk (et)

Wool

Ull (en)

Wool sweater

Ullgenser (en)

Hill intended for sledding

Akebakke (en)
Verbs
To build a snowman
Å lage en snømann
To buy
Å kjøpe
To chop down a tree

Å hugge ned et tre

To decorate

Å dekorere

To freeze

Å fryse

To go sledding

Å ake

To have an accident

Å havne i en ulykke

To ice fish

Å isfiske

To ice skate

Å skøyte

To shop

Å handle

To shovel

Å måke

To ski
(cross country; alpine)

To slip

Å skli

To snow

Å snø

To snowboard
Mariusgenser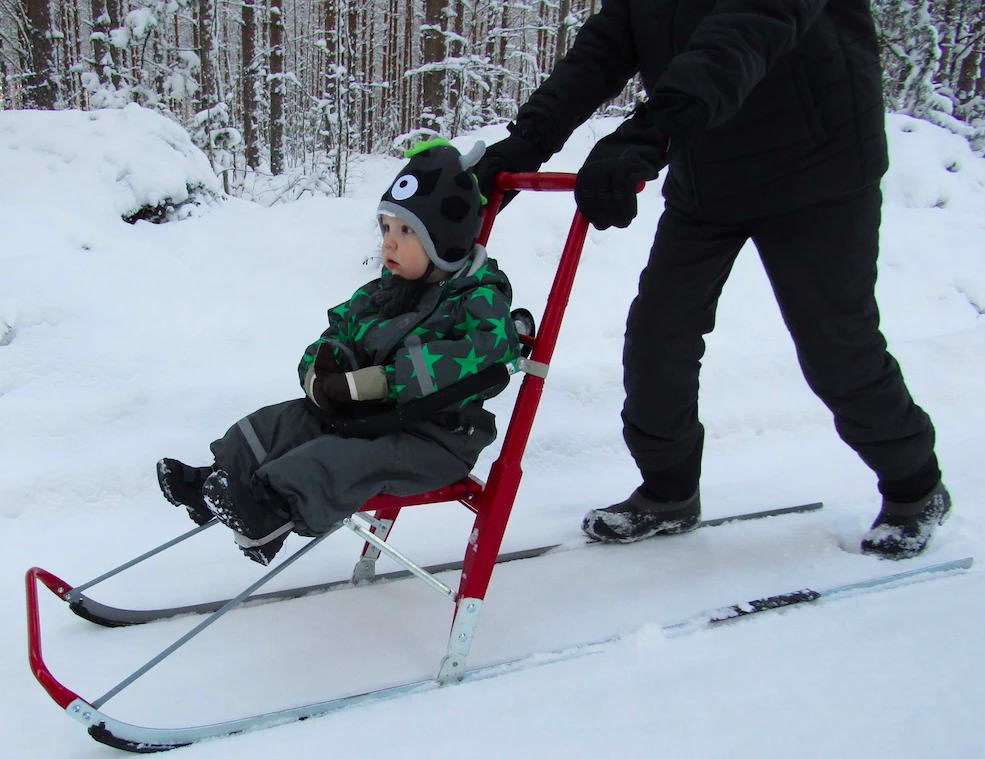 Spark
Exercise: Write five sentences about wintertime.