Often, new learners of Norwegian will inevitably ask if someone speaks bokmål or nynorsk, to which they get informed that bokmål and nynorsk are not spoken languages but rather written standards. Instead, Norwegians speak their local dialect (or sometimes a mix of dialects, if they have moved around). Some dialects are closer to bokmål and some are closer to nynorsk. But how does one language end up with two written standards?
History
As many may know, Norway was a part of Denmark for centuries. During this time, the Norwegian language was heavily influenced by the Danish language. In the cities, some would speak Danish with a Norwegian intonation; this is called Dano-Norwegian (dansk-norsk). Danish was also used as the writing system in Norway during this time period.
In 1814, however, Norway gained its independence from Denmark and Danish lost its popularity among Norwegians. Questions arose as to what to do with the written language. There were three options:
Keep Danish as the written standard

Create a written standard based on the dialects

Norwegianify the Danish
A linguist named Ivar Aasen went to work creating a written standard based on dialects. He did extensive research between 1842-1846, travelling throughout parts of Norway, gathering information about the rural dialects in the areas. He believed that the Norwegian spoken in the rural areas, where the majority of the population was located, was closer to original Norwegian than that of those who lived in the cities and who were influenced heavily by Danish. It was Aasen's belief that the dialects shared a common structure that differentiated it from the Danish and Swedish languages. In 1848, he published a comparative dialect grammar book, followed by a dictionary in 1850. In 1853, he published yet another book in which he described a written standard, based on the common structures he found among the dialects, which he called landsmål. He then continued to publish stories, poems, essays, etc using this standard.
Meanwhile, there was another group of people that wanted to take Danish and alter it to fit spoken Norwegian, instead. One particular linguist named Knud Knudsen did just that, creating what he would call "riksmål."
So now there were two forms of written Norwegian and there was no agreement on which one to use. In 1885, the parliament declared that "landsmål" and "riksmål" would both be official.
In 1907, a spelling reform took place (there would be many other spelling reforms in following years, which I will not go into detail about in this lesson). During this, the most common spoken aspects of Norwegian were added to riksmål. Also, some of the more archaic aspects in landsmål were abolished and a few small changes were introduced. Eventually, the goal was to decrease the differences between landsmål and riksmål, until there was only one written standard, samnorsk (Common Norwegian). This goal was later abandoned in the 1960s.
Due to the spelling reforms, landsmål eventually became nynorsk and riksmål eventually became bokmål, both of which were meant to be "intermediary stages" to becoming "samnorsk." This led to landsmål and riksmål losing their status as "official standards" in 1929, as they were replaced with nynorsk and bokmål.
Norwegian Today
Approximately 85-90% of Norwegians today use bokmål as their written standard. Nynorsk, on the other hand, is used by about 10-15% of the population, mostly in western and central areas of southern Norway. In Norway, each county and municipality can decide to declare either bokmål or nynorsk as their standard or choose to be standard-neutral. As of 2015, only 26% of the municipalities declared nynorsk as their official language, compared to 36% that declared bokmål as their official language and the other 36% that remained neutral.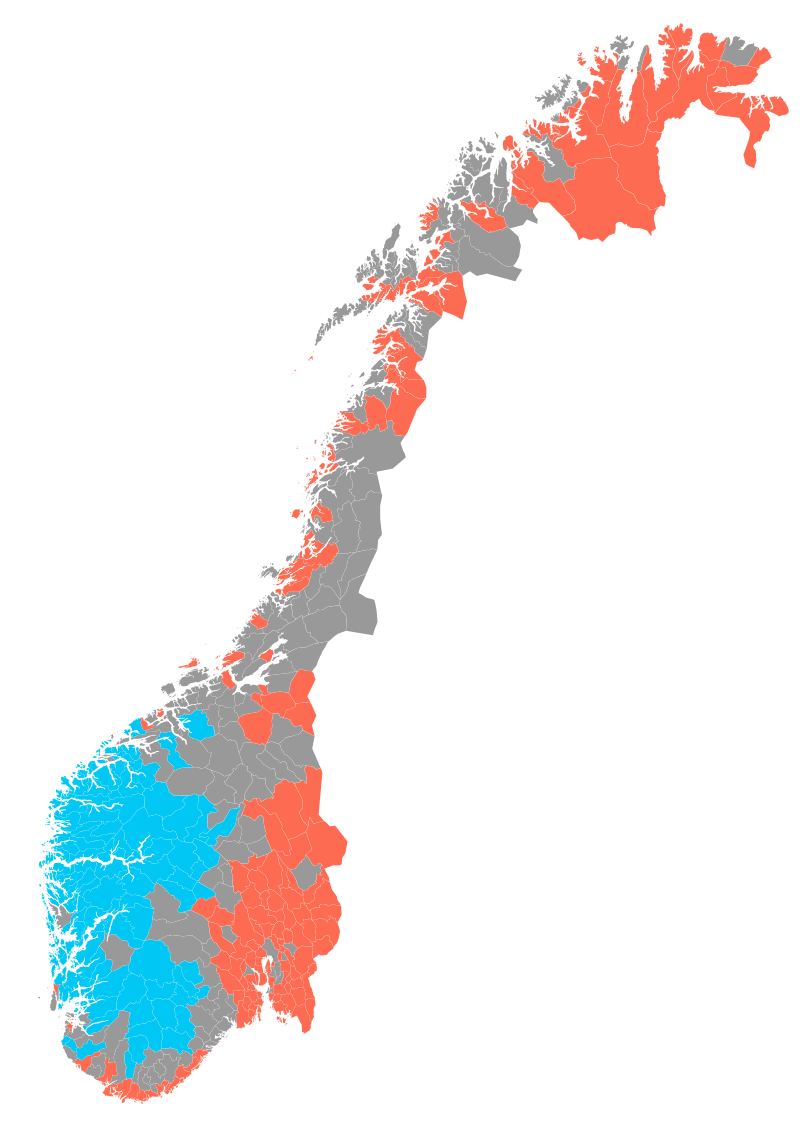 Map of the official language forms of Norwegian municipalities as of 2007 with Nynorsk in cyan and Bokmål in orange
Technically, in schools, the standard that students are taught as their primary language should be decided by referendum in each school district. However, a student can demand to have nynorsk books even if the overall primary is bokmål (with the exception of Norwegian class). If there are more than 10 students that use nynorsk, they can demand to be put into a separate group where everything is in nynorsk. As of 2016, only 12.2% of elementary school students are taught nynorsk as their primary written language. If a student's primary written standard is nynorsk, they are required to still learn bokmål and vice versa.
There are laws in place that enforce the use of nynorsk in media and other areas. For example, NRK is required to have at least 25% of their content in nynorsk. Most of the major newspapers also contain articles in nynorsk. Many computer programs and apps that serve Norway have an option to choose between bokmål and nynorsk. Some commercial products, particularly if they are produced in majority-nynorsk areas, will contain text in nynorsk. Universities are required to offer content in nynorsk and to allow students to take exams in nynorsk if that is their primary written language.
Differences: Bokmål vs Nynorsk
This section is not an exhaustive list of the differences between bokmål and nynorsk.
First, let us look at an example sentence in Danish, bokmål, and nynorsk (since Danish heavily influenced bokmål).
Danish: Vi har syv ravne, en krage og flere vipstjerter.
Bokmål: Vi har syv / sju ravner, en / ei kråke og flere linerler.
Nynorsk: Vi / Me har sju ramnar, ei kråke og fleire linerler.
English: We have seven ravens, a crow, and several wagtails.
As you can see, in bokmål, one can use the Danish "syv" or the nynorsk "sju" and either the masculine or feminine articles, "en" or "ei" for kråke, whereas in Danish you can only use "en" and in nynorsk, you can only use "ei." Nynorsk does not offer these options. In nynorsk, you can either say "Vi" or "Me" for "We".
Nouns
In bokmål, there are three genders however the feminine gender is optional. In nynorsk, this is not the case.
Nynorsk

Bokmål

English

Indefinite

Definite

Indefinite

Definite

Indefinite

Definite

Ei sol

Sola

Ei sol

Sola

A sun

The sun

En sol

Solen

Ei hytte

Hytta

Ei hytte

Hytta

A cabin

The cabin

En hytte

Hytten
The articles for the masculine and neuter genders are also a bit different in nynorsk.
| | | | |
| --- | --- | --- | --- |
| | Nynorsk | Bokmål | English |
| Masculine | Ein katt | En katt | A cat |
| Neuter | Eit hus | Et hus | A house |
Note: In the definite form, the masculine and neuter forms in nynorsk are identical to the bokmål.
Plural endings in nynorsk, for masculine gender nouns, are different than in bokmål.
Nynorsk

Bokmål

English

Indefinite Singular

Indefinite Plural

Definite Plural

Indefinite Singular

Indefinite Plural

Definite Plural

Feminine

Ei sol

Soler

Solene

Ei / En sol

Soler

Solene

Suns

Masculine

Ein katt

Kattar

Kattane

En katt

Katter

Kattene

Cats

Neuter

Eit hus

Hus

Husa

Et hus

Hus

Husene / Husa

Houses
Pronouns
There are some differences in pronouns between nynorsk and bokmål.
| | | | | | |
| --- | --- | --- | --- | --- | --- |
| Nynorsk | Bokmål | English | Nynorsk | Bokmål | English |
| Eg | Jeg | I | Meg | Meg | Me |
| Du | Du | You | Deg | Deg | You |
| Han | Han | He | Han | Ham | Him |
| Ho | Hun | She | Henne / Ho | Henne | Her |
| Det | Den / Det | It | Det | Den / Det | It |
| Vi / Me | Vi | We | Oss | Oss | Us |
| De / Dokker | Dere | You (plural) | Dykk / Dokker | Dere | You (plural) |
| Dei | De | They | Dei | Dem | Them |
Unlike with bokmål, in nynorsk, the word "it" is dependent on the grammatical gender of the noun that "it" is referring to.
| | Nynorsk | Bokmål | English |
| --- | --- | --- | --- |
| Feminine | Kor er boka mi? Ho er her | Hvor er boka mi? Den er her | Where is my book? It is here |
| Masculine | Kor er bilen min? Han er her | Hvor er bilen min? Den er her | Where is my car? It is here |
| Neuter | Kor er brevet mitt? Det er her | Hvor er brevet mitt? Det er her | Where is my letter? It is here |
There are many other differences between nynorsk and bokmål, such as how some verbs are conjugated; how some adjectives are formed to make comparisons; the use of "j" in nynorsk (much more frequent than in bokmål, for example ikkje vs ikke); the use of double consonants (much more frequent in bokmål than in nynorsk, for example ven vs venn); some determiners (i.e. that, this, those, these) are different; not to mention there are some different vocabulary words as well. This lesson was just to help explain why there are two written standards and to illustrate just some of the differences. While the majority do use bokmål for their written standard, nynorsk is just as valid of an option for Norwegian speakers and learners.
Exercise: Write 2 sentences in whichever written standard you are used to, about what you like or dislike during winter. Then rewrite those sentences, using the other written standard.